We are bringing you a full schedule for Matchday 2 of Euro 2020 Group Stage and where you can watch it.
The long-awaited event has started and has already shaken the whole world. Danish footballer Christian Eriksen has collapsed on Saturday's match against Finland, and according to latest information, he suffered a cardiac arrest. Danish football association made a statement about Eriksen's condition:
That match was Finland first even international competition, same as for North Macedonia.
Matchday 2 schedule
Before we jump onto the Matchday 2 scedule, let's have a quick look at the Euro 2020 groups: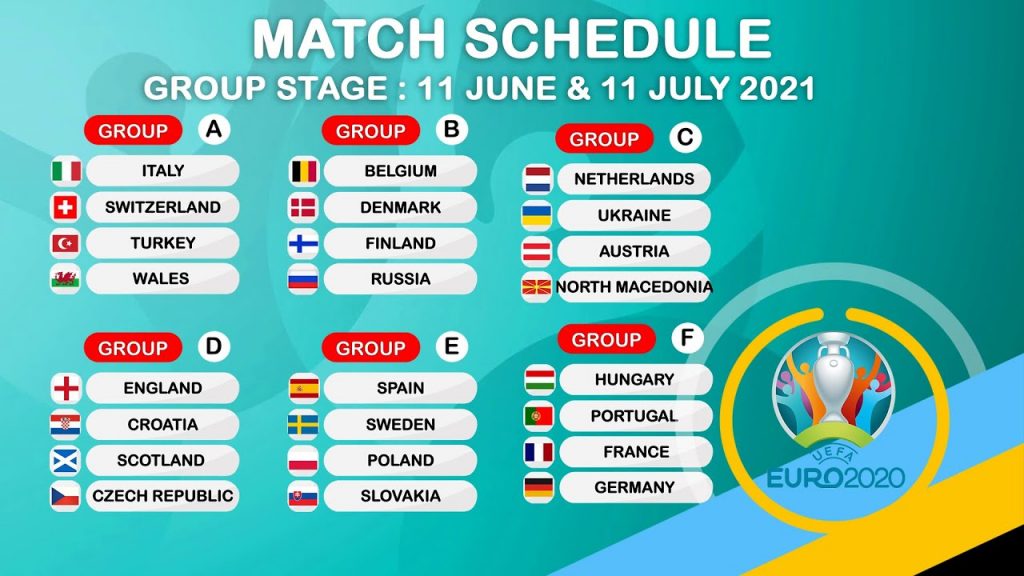 Wednesday 16 June
Finland vs Russia (15:00, St Petersburg)
NO: NRF 1
RU: Channel 1
SK: Dvojka STV 2

Turkey vs Wales (18:00, Baku)
TUR: TRT 1
UK: BBC One
FR: beIN Sports 1

Italy vs Switzerland (21:00, Rome)
IT: Sky Sport Uno
CH: RSI LA 2 HD
FR: beIN Sports Max 4 HD
Thursday 17 June
Ukraine vs North Macedonia (15:00, Bucharest)
UA: Football 1
AL: SuperSport 2 HD
RU: Match! Premier HD

Denmark vs Belgium (18:00, Copenhagen)
DK: TV3
BE: Een Channel HD
HR: HRT 2

Netherlands vs Austria (21:00, Amsterdam)
DK: DR 1
AU: ORF 1
DE: ZDF
Friday 18 June
Sweden vs Slovakia (15:00, St Petersburg)
SE: STV 1
SK: Dvojka STV 2
CZ: CT Sport HD

Croatia vs Czech Republic (18:00, Glasgow)
HR: HRT 2
CZ: CT Sport HD
BiH: NOVA TV HD

England vs Scotland (21:00, London)
FR: beIN Sports 1
DE: ZDF
UK: ITV 1
Saturday 19 June
Hungary vs France (15:00, Budapest)
HU: M4 Sport
FR: beIN Sports 1
DE: Das Erste

Portugal vs Germany (18:00, Munich)
PT: Sport TV 1
DE: Das Erste
HR: HRT 2

Spain vs Poland (21:00, Seville)
ES: Cuatro HD
PO: TVP 1
IT: Sky Sport Uno
You can see more of EURO 2020 schedule and channels to watch the matches on here or download our app: