Deontay Wilder and Tyson Fury will clash again on 22nd February 2020 in the MGM Grand Garden Arena, Las Vegas to determine the best heavyweight on the earth.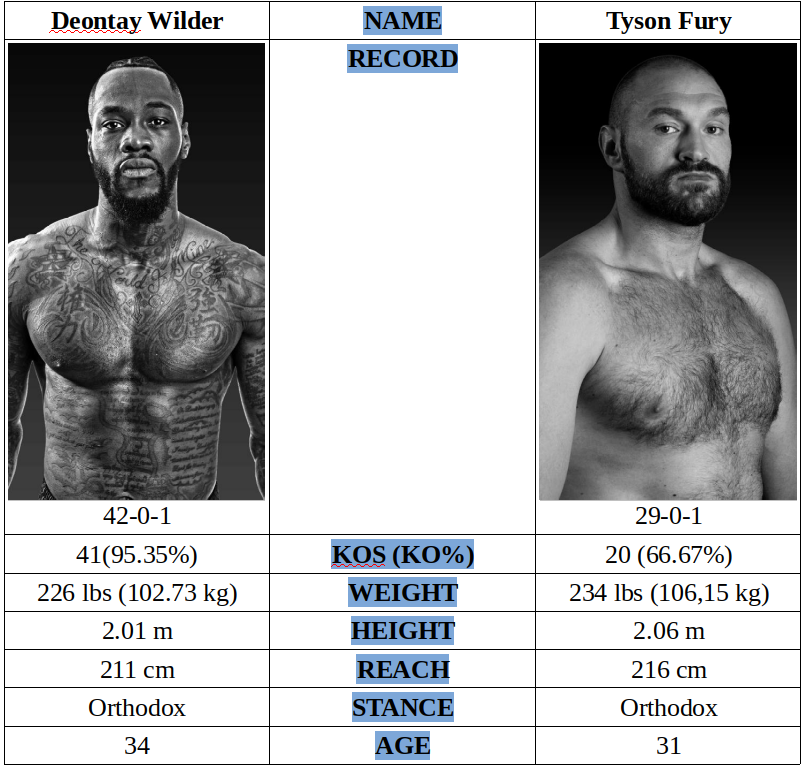 Who is Deontay Wilder?
Wilder first stepped into a boxing gym at the age of 20 intending to start a successful career driven by the desire to support his daughter who was born with Spina Bifida. Determined to prove himself and keep his promise to his daughter that he will one day be a world champion.
He was representing the USA in 2008. Olympic games. Wilder won his first title in professional boxing when he knocked out 37-year-old Kelvin Price (13-0, 6 KOs) at the Memorial Sports Arena in Los Angeles, on December 15, 2012.
Now he is a professional boxer and the current WBC Heavyweight Champion. After winning the title in 2015, he became the first American world heavyweight champion in nine years, which remains the longest period of boxing history without an American Heavyweight Champion.
Nicknamed "the Bronze Bomber", Wilder is known for his formidable punching power. In fact, he has knocked out or knocked down every opponent he's faced professionally.
Wilder warns Fury:
"I was at 50 percent or less in our first fight. I talked about a broken arm before, but I didn't fight like I normally do. I didn't do the things I normally do. My coach and I watch this match exactly we can point out all the things I didn't do as I normally do and ask ourselves why."

Deontay Wilder
Who is Tyson Fury?
As an amateur, Fury represented both England and Ireland, as he was born in Manchester to an Irish Traveller family and traced his family lineage to relatives in Belfast and Galway. He won the ABA super-heavyweight title in 2008 before turning professional later that year at 20 years of age.
Now he is a British professional boxer and former WBA (Super), IBF, WBO, IBO, The Ring, and lineal heavyweight champion. Fury has struggled with mental health and addiction issues, which eventually led to him being stripped of previous titles and even his boxing license. He returned to boxing in 2018, and he ended up fighting Wilder in the 2018 WBC Heavyweight Championship, which ended in a controversial draw, with many believing that Fury should have won.
Nicknamed "the Gypsy King", Fury is known for his exceptional ring intelligence and durability.
Fury didn't comment Wilder's warning, he just spoke about the judges:
"Whichever judges get selected, that's it," Fury said. "I'm fine with that. No British judges, fantastic. It was the British judge that went against me last time, hence why I've not got a British judge this time. So yeah, I'm gonna be fantastically happy with the judges and referee. They all do a fantastic job. The [Nevada] State Commission will pick experienced guys."

Tyson Fury
Experts predict: "Stamina and Ring intelligence will be crucial"