The 69th edition of NBA All-Star Game will be on Sunday, Feb. 16 at the United Center in Chicago, Illinois, home of the Chicago Bulls. This is the third year in a row in which captains participated in a fantasy draft and selected their own teams, compared to the traditional East vs. West format.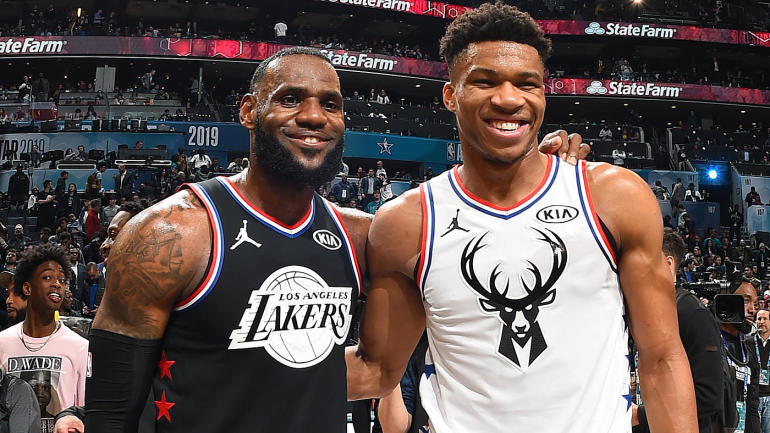 Team LeBron – Team Giannis
The captains, LeBron James and Giannis Antetokounmpo, the All-Star starters who earned the most fan votes in their conferences, picked the teams from a pool of 24 players who were voted in by fans, media and current NBA players. In the first round the captains draft the eight remaining players from the starter pool and then all 14 players from the reserve pool in the second round, making selections without regard to a player's conference affiliation or position.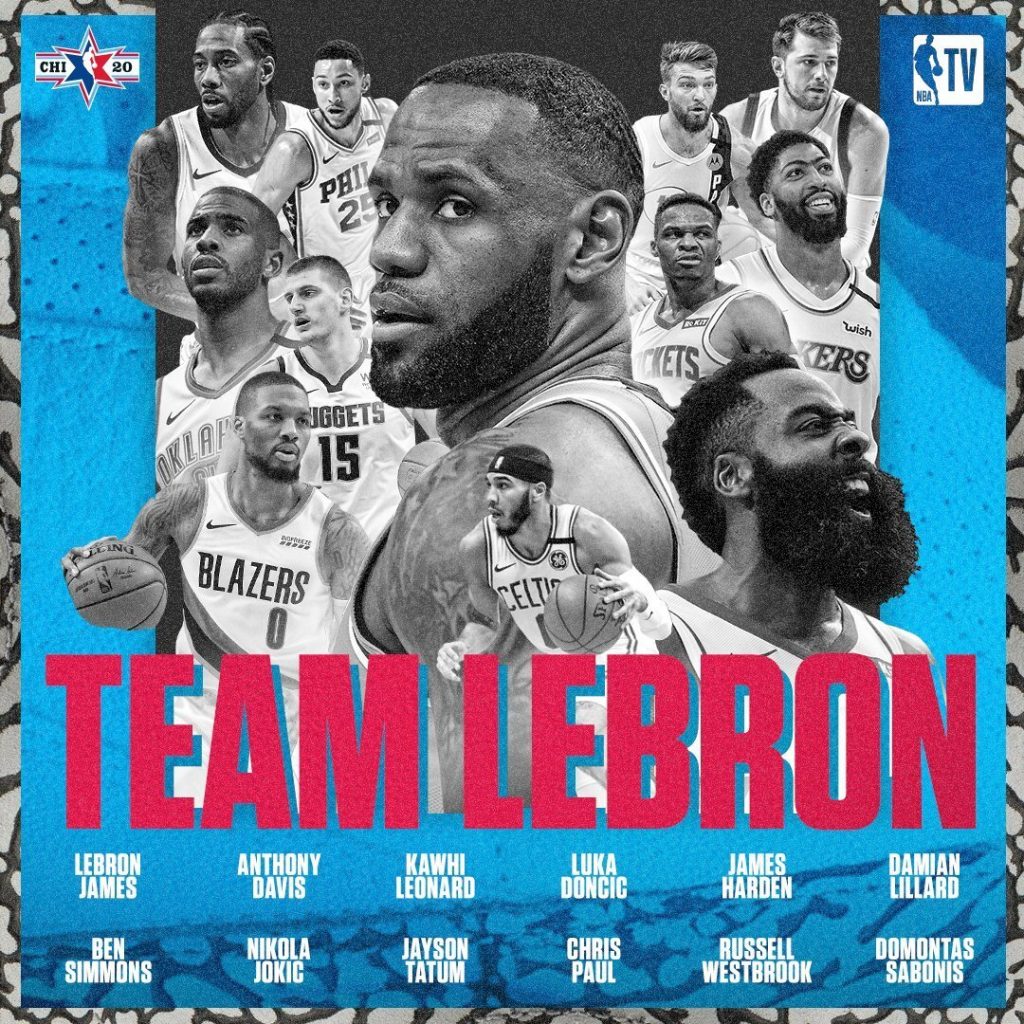 Anthony Davis (Lakers)
Kawhi Leonard (Clippers)
Luka Doncic (Mavericks)
James Harden (Rockets)
Damian Lillard (Trail Blazers)
Ben Simmons (76ers)
Nikola Jokic (Nuggets)
Jayson Tatum (Celtics)
Chris Paul (Thunder)
Russell Westbrook (Rockets)
Domantas Sabonis (Pacers)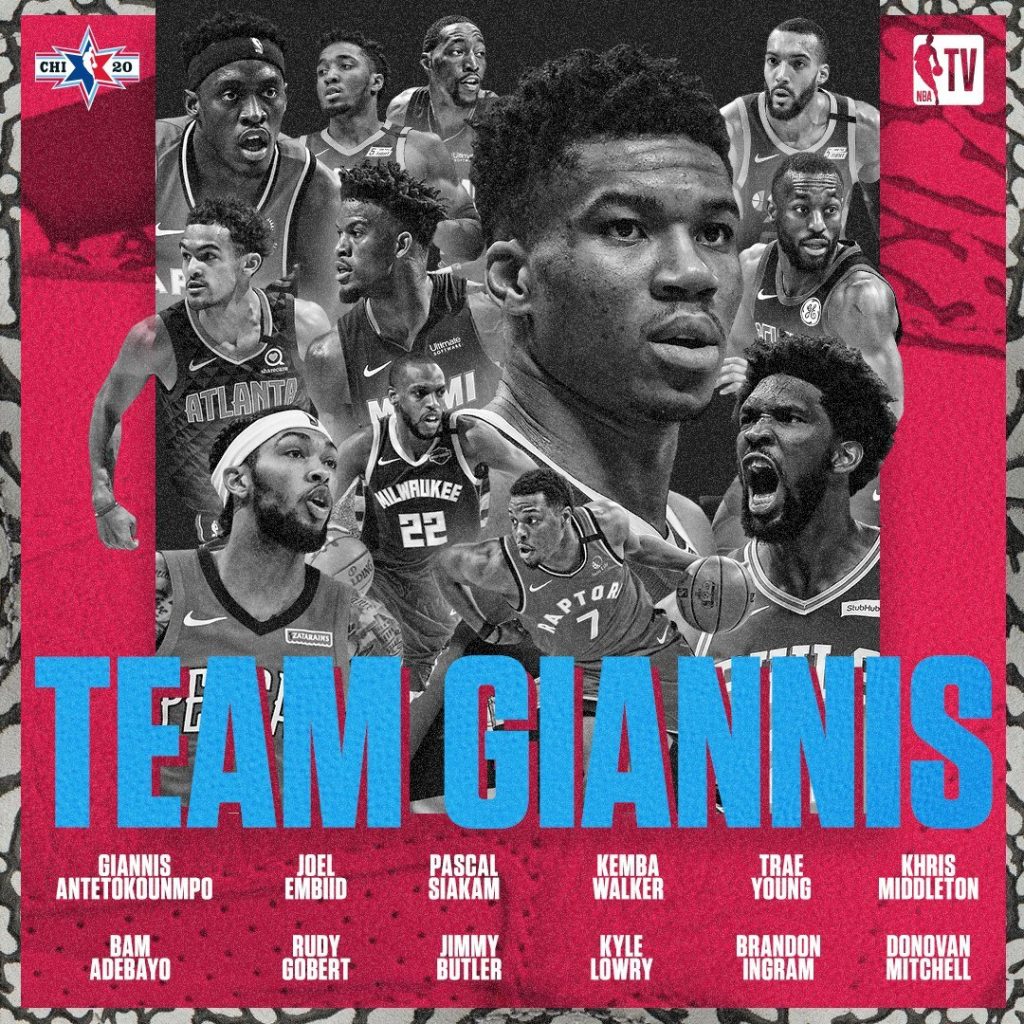 Joel Embiid (76ers)
Pascal Sjakam (Raptors)
KembaWalker (Celtics)
Trae Young (Hawks)
Khris Middleton (Bucks)
Bam Adebayo (Heat)
Rudy Gobert (Jazz)
Jimmy Butler (Heat)
Kyle Lowry (Raptors)
Brandon Ingram (Pelicans)
Donovan Mitchell (Jazz)
The All-Star teams will compete to win each quarter for Chicago-based community organizations. The Final Target Score will be determined by taking the leading team's total cumulative score through three quarters and adding 24 points. Once the Final Target Score is set, the teams will play an untimed fourth quarter and the first team to reach the Final Target Score will win the NBA All-Star Game. The NBA incorporated 24 points into the calculation of the Final Target Score to honor the late Kobe Bryant, who wore No. 24 for the final 10 seasons of his career.
There's a whole weekend of festivities on the way, which begins on Friday with the NBA All-Star Celebrity Game and NBA Rising Stars, events taking place to get the All-Star celebration underway.
Saturday night will feature the Skills Challenge, Three-Point Contest and Slam Dunk Contest, while the All-Star Game will wrap things up on Sunday night.
Where to watch NBA All-Star Game: S Sport Turkey, Cytavision Sports 1 HD, TNT, DAZN.com.
Connecting sports and TV in the best possible way.