The 2020 National Hockey League All-Star Game will be held tonight, on January 25, at the Enterprise Center in St. Louis, Missouri. For the fifth time All-Star Game will use a four-team (one team representing each of the league's four divisions), 3-on-3, single elimination format.
NHL All-Star Skills Competition
The NHL All-Star Competition was the night before, on January 24. The Shooting Stars event is a new addition to already known event list: The Fastest Skater, Save Streak, Accuracy Shooting, Hardest Shot. The new event will feature players shooting pucks from an elevated 9.1 m platform behind the goal towards targets on the ice.
During the Skills Competition was also a Elite Women's 3-on-3 game between Canadian and American women's all-stars.
Rosters
As usual, teams were determined by fan votes. For this years All-Star Game, voting was open from November 30 to December 20, 2019, and for the last round from January 1 to January 10.
Pacific Division
Captain: Connor McDavid (Edmonton Oilers)
Head coach: Gerard Gallant (Vegas Golden Knights)
Central Division
Captain: Nathan MacKinnon (Colorado Avalanche)
Head coach: Craig Berunbe (St. Louis Blues)
Atlantic Division
Captain: David Pastrnak (Boston Bruins)
Head coach: Bruce Cassidy (Boston Bruins)
Metropolitan Division
Captain: Alexander Ovechkin (Washington Capitals)
Head coach: Todd Reirden (Washington Capitals)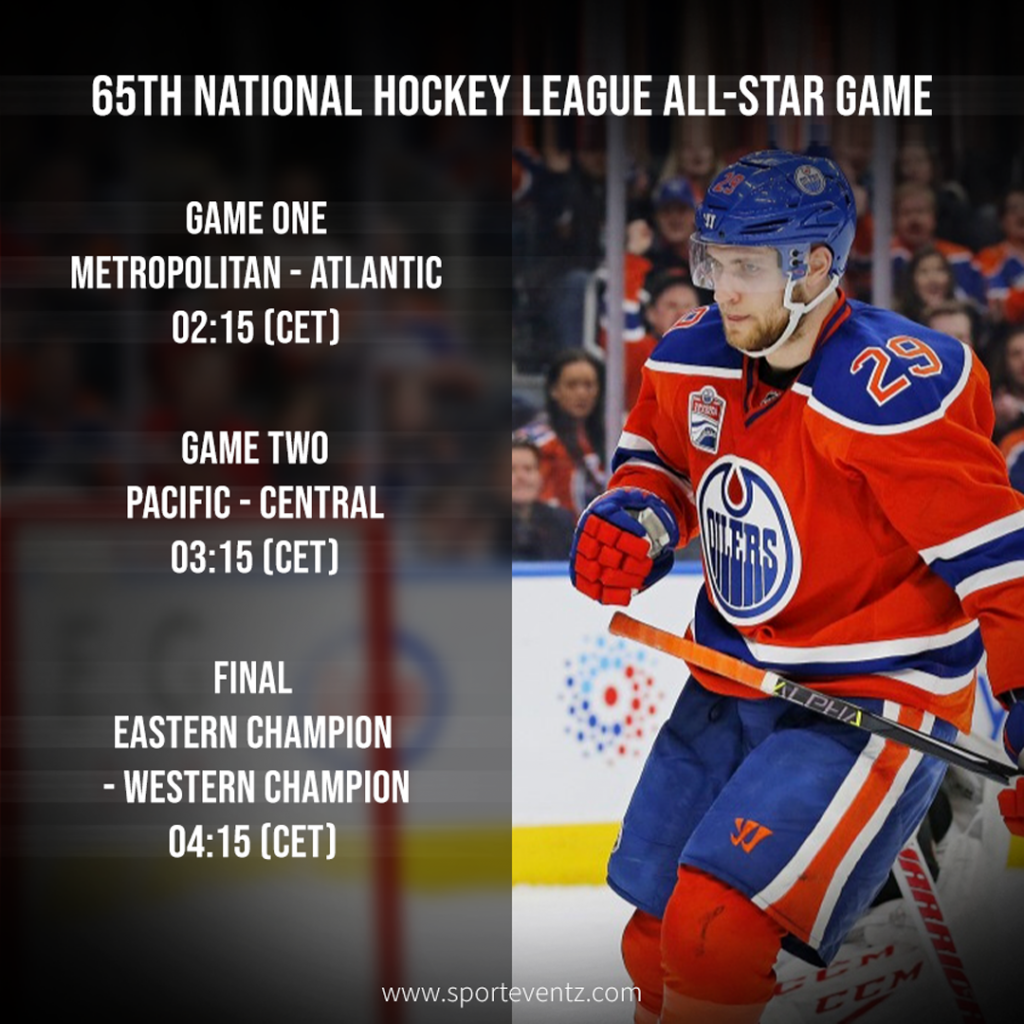 NHL All-Star Game broadcast
Both All-Star Game and Skills Competition will be live on NBC and NBCSN in US and on CBC, Sportsnet and TVA Sports in Canada. Matches will also be broadcasted on Nova Sport 1 (HD) Czech Republic, TVP Sport Poland HD, Viasat Hockey HD and DAZN.com/de-AT/.
NHL news
Brady Tkachuk, an Ottawa Senators forward will play at his first All-Star Game and replace Auston Matthews, a Toronto Maple Leafs center on the Atlantic Division roster.
Blues fans say that the All-Star game couldn't come at better time. St. Louis Blues have the second-best record in the League this season (.694 percentage) and they have won the Stanely Cup last season for the first time since entering the NHL in 1967-68. They are attending All-Star with five representatives: coach Craig Berube, center Ryan O'Reilly, forward David Perron, goalie Jordan Binnington and defenseman Alex Pietrangelo.
For 19 players this will be the first-time attending NHL All-Star Game, but there will be some experienced players as well. That group are leading Shea Weber, Montreal Canadians defenseman, for the seventh time, and Patrick Kane, Chicago Blackhawks forward ninth time.
Arizona enters the All-Star break on a skid, as it has lost five of its last six games. However, the Coyotes are still having a solid season, as they have 57 points, tied with three other teams for the second-most in the Pacific Division.