Photo: Pixabay
England will host the Rugby World Cup 2015, which starts on September 18, and they want the "biggest, finest and the most glorious tournament ever". The interest from fans is enormous.
Rugby World Cup 2015 live on satellite TV today
ITV Sport will be the UK and worldwide host broadcaster, having signed a deal to broadcast the 2011 and 2015 RWC, and it will show every match live in UK on ITV and ITV4.
The reunion a number of England's 2003 World Cup winning team as pundits for this year tournaments is a great idea. Jonny Wilkinson, Lawrence Dallaglio, Jason Robinson and great sir Clive Woodward, will lead a big pundit team through the six-week event.

SportEventz Apps:
Jonathan "Jonny" Peter Wilkinson
Jonny was the youngest player of England's World Cup squad in 2003, and with 113 points the best scorer of a tournament. In 2004. he was named the IRB International player of the year. Jonny's extra time drop goal, only 26 seconds before the end, gave England first Rugby World Cup ever. in 2010. Jonny and his brother Sparks started Fineside, movement-focused clothing company.
Lorenzo Bruno Nero "Lawrence" Dallaglio
Lawrence was a key player of 2003 team, playing every minute of World Cup. He is also one of the two players winning the World Cup in both 15 and 7 side competition. Lawrence is working now as a BT pundit and is very active in charitable work leading "Dallaglio Foundation".
Jason Thorpe Robinson 'Billy Whizz'
Jason is one of the top England all-time try scorers, with 28 tries from 51 caps. He played all seven matches on World Cup 2003, having important role on England's way to title. Fans remember famous try against Australia in final game. He announced an official retirement in July 2011, and works today as a trainer.
Sir Clive Woodward
Sir Clive have managed this great squad on their way to title. Following the retirement of key players, after 2003 win, he have also decided to resign from position as Enland coach on 1. September 2004. He was knighted in 2004. ITV has definitely assembled a world-class pundit team, who will share their expertise, experience and rugby passion with thousands of fans worldwide. Also Brian O'Driscoll, Gareth Thomas, Francois Pienaar, Sean Fitzpatrick and many others will cover this great sport event in autumn.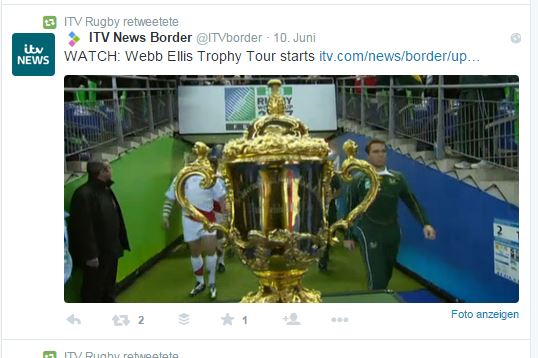 We are waiting for more news and coverage details from ITV. The Rugby World Cup Trophy will travel two months through Scotland, Northern Ireland, the Republic of Ireland, Wales and England before arriving at Twickenham Stadium on 18 September ahead of the opening ceremony. If you didn't, you should definitely download official RWC 2015 App and stay updated with latest news from world of rugby and follow your favorite team.
Don't miss the beat! This could be a "biggest, finest and the most glorious Rugby World Cup ever".
SportEventz will provide all TV and satellite information for this tournament
Connecting sport and TV in the best possible way